CyberSEO Pro Pricing
CyberSEO Pro is the most powerful autoblogging and content import plugin for WordPress. It allows you automatically to populate your WordPress sites with high quality search engine optimized articles and all sorts of media content from RSS feeds, Atom feeds, XML feeds, JSON feeds, CSV files, pipe/comma/semicolon-delimited raw text dumps, video tubes, marketplaces, social networks and more. The plugin is integrated with a wide range of cutting edge AI technologies for machine translation, article rewriting, text and image generation, such as Article Forge, OpenAI GPT-3.5 and GPT-4 (the exact same AI models as used by ChatGPT), DALL∙E 2 and Stable Diffusion technologies. Set your content sources once, and let the plugin effortlessly fuel your site with fresh content around the clock. Simply fire and forget!
License type: Proprietary. Copyright © CyberSEO.net.
💳
The automatic country selection may be inaccurate, so be sure to adjust the country selection on the payment form to remove VAT if applicable.
CyberSEO Pro
1 site license
$29.95
Everything is included
All CyberSEO Pro features
Personal email support
One year of updates
A one-time payment, no rebills
Buy Now
CyberSEO Pro
10 site license

All CyberSEO Pro features
Personal email support
One year of updates
A one-time payment, no rebills
Buy Now
If you find CyberSEO Pro's extensive features and price a bit too much for your needs, you may want to consider RSS Retriever as a streamlined alternative. It's a low-cost, AI-integrated RSS/Atom aggregator for WordPress that offers core functionality without the extras.
Instant Download
Upon completing your purchase, you will gain immediate access to the download link for the plugin. This means that right after your payment is processed and confirmed, you'll be able to start downloading the plugin right away. No waiting time involved!
Please note that the download link and activation instructions will be sent to the email address associated with your purchase. In case you don't receive the email promptly, we recommend checking your spam or junk folder. If you find the email there, please mark it as "not spam" to ensure future correspondence lands in your inbox.
One Year of Free Updates
A license of the version of CyberSEO Pro that you order, a free personal support and one year of free updates. If you decide to receive updates for yet another year, you may prolong the plugin update period for 50% of the initial price. Otherwise you just continue using the existing version of CyberSEO Pro without updates. The plugin won't stop working if you don't prolong your license for yearly updates.
You may prolong your existing license or upgrade it for an increased amount of sites at any time here. The price of your existing CyberSEO Pro license will be subtracted from the final price of the extended site license you are upgrading to.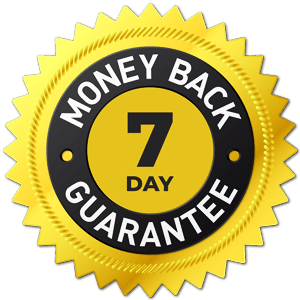 7-Day Money Back Guarantee
We provide a 7-day money-back guarantee if the plugin is not working as described due to any issues. If you face any problems that hinder your use of the plugin and can't be resolved by adjusting the settings, we will refund your full payment amount.
* You can use these licenses to install the plugin on your personal sites, on your company's sites, and on your customers' sites. Please note that once activated, the plugin cannot be transferred to another URL. On the other hand, you are free to resell or transfer your CyberSEO Pro license to other person or company along with the site it was activated at. Developers are allowed to use their non-unlimited CyberSEO Pro license on their client's website as long as the total number of websites doesn't exceed the license limit. Please note that the plugin cannot be executed on a localhost. It requires a live URL, as it interacts with online resources.