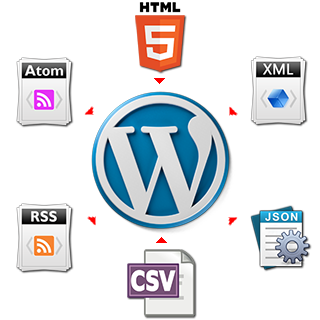 28,643 websites run CyberSEO
CyberSEO is a professional content curation and autoblogging plugin that allows one to run top-notch WordPress sites of any subject (blogs, online shops, tubes, livecam hubs, image galleries, pinboards etc). Build your own Web empire and let CyberSEO automatically populate it with fresh content on full autopilot 24/7!
The plugin is equipped with the most powerful built-in content aggregator, which has the following unique features:
The plugin accepts all existing RSS, Atom and XML feeds, it can import any type of content form CSV tables, raw text dumps, HTML documents and JSON files. With CyberSEO you can grab blog-style RSS feeds, Ebay feeds, XML Shop feeds, YouTube, Vimeo, Dailymotion, adult tubes (Brazzers, Nuvid, Drtuber, Pornhub, RedTube, Tnaflix, xHamster, xVideos, YouPorn, GotPorn etc), livecam sites (AWEmpire, BongaCams, Chaturbate, Camsoda etc), XML tube feeds (SmartScripts, TubeAce, NATS formats), Google Blog Search, Yahoo Answers, Flickr, Twitter, Reddit, IGN News, Yahoo News, Bing News, CNN, CBS, NBC, BBC, The New York Times, ABC News, Fox News and many-many more. With CyberSEO you can import content from almost any source!
The syndication algorithm has the ability to pull the content on autopilot. Furthermore, you can assign the updating period to each particular content source. Also you can set up a maximum number of posts that will be syndicated from it at once. This is a very useful feature for SEO of your blogs, because search engines don't like blogs that add 100 or more posts in a moment.
The CyberSEO plugin is able to automatically extract full-text articles from shortened RSS feeds.
You can synonymize and rewrite every syndicated post, shuffle its paragraphs, translate it to other languages, add any random HTML blocks as headers and footers.
The CyberSEO plugin is integrated with the following content spinner services: WordAi, TheBestSpinner, SpinnerChief, SpinRewriter, SpinChimp, ESpiner.
Proxy support. CyberSEO will use your proxy-list to access all internal URL's. The proxies are usually used to parse those services that do not allow frequent connections from the same IP's.
The auto commenting tool allows one to automatically post comments using user-defined content and random names.
The unique "Parse WordPress archives" function allows one to syndicate all the published posts from any other WordPress blog with a single click.
You can hotlink media files (images and videos) from the publisher site or download them to your server. This feature allows you to hide the media source URLs and improve performance of your site.
Adjustable post uniqueness identification by GUID, the post title or both.
Automatic generation of featured images (post thumbnails).
The CyberSEO plugin works with all existing WordPress themes and allows one to run a full-featured automatically populated tube sites, image galleries, pinboards, blogs, magazines, online shops and anything else.
The PHP programmers can write their own scripts to alter the syndicating content. With this feature webmasters gain the absolute power on generated content!
What's new in version 7

No "lite" editions anymore. Now there is only one edition of CyberSEO and it is unlimited.
The IonCube Loader is not required. Since version 7, the plugin is compatible with PHP 5.3.3 and greater (PHP 7.2 is recommended).
CSV and text dump imports now supported. Import with ease raw text dumps and Excel-style CSV files into WordPress posts and pages.
HTML and JSON sources are also supported now.
Since version 7 the internal structure of XML and JSON sources is recognized and parsed automatically.
Full support of the Hyper Text Transfer Protocol Secure (HTTPS).
Optimized code and new improved interface.
Autoupdate feature added. Now CyberSEO updates itself automatically.
Post templates allow one to easily import XML items and define the post layout.
Presets added. This is a very powerful feature which allows one to choose predefined feed settings from the library. So if you want to import some feed as an image gallery, as a tube video, as a full text article etc, do it with a couple of mouse clicks!
New full text extraction method. No 3rd-party Web services anymore – all the scripts run at your own host.
Automatic translation to/from over 100 languages via Google Translate and Yandex Translate services.
Media attachment handling for video and audio files.
Correct permalinks for spun (synonymized) post titles were finally implemented.
Fixed the known problem with feed edition while plugin is active.
The 3rd-party ESpiner spinner service support added.
Auto tags generation added.
A featured image now can be generated from media attachment thumbnails.
Now the plugin is able to store video files locally just like the picture ones.
The "post lifetime" option has been added. Now you can set the period of time in hours after which the post will be deleted. This feature is very useful for online shops and similar projects that needs to be constantly updated.
Documentation
The CyberSEO 7 package includes the following:
The CyberSEO license for an unlimited number of domains and sites.
Free updates within the major version. The price of the major version upgrades (e.g. from 6.x to 7.x) is only 50% of the initial product license fee.
Free lifetime support.
System requirements
PHP 5.3.3 or greater (PHP 7.2 or greater is recommended)
MySQL 5.0 or greater (MySQL 5.7 or greater is recommended)
PHP XML extension
PHP mbstring extension
PHP GD extension
PHP cURL extension
PHP Zlib extension
Access to cron on server (recommended)
Buy the CyberSEO plugin unlimited domain license now!
Buy CyberSEO 7 Upgrade From Previous Version
Please make sure to enter the correct email (do not use @hotmail.com and @outlook.com). It will be used for sending you the download info and for notification about new releases and services.
This will never be given to any third party (other than the credit card authorization processor 2Checkout.com Inc.)
Your order will be processed within 24 hours.
If you won't receive the download and activation info within 24 hours, check your email spam box. If the email is there, please make sure to mark it as "not a spam".

Not ready to buy CyberSEO 7 "Revolution" yet?
Download Freewarae CyberSyn Plugin
---
2Checkout.com Inc. (Ohio, USA) is a payment facilitator for goods and services provided by CyberSEO.